Safari and Tour Operators in Kenya and Tanzania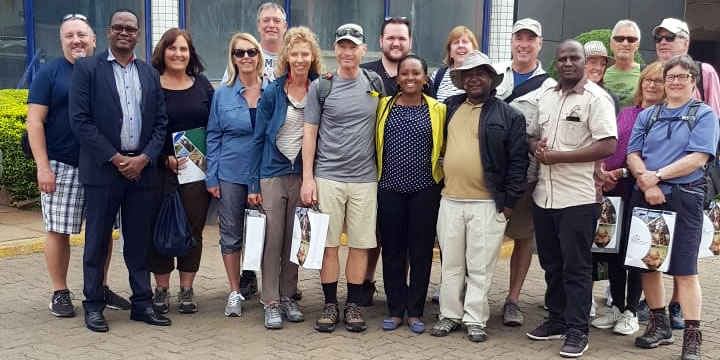 East Africa Adventure Tours and Safaris is an established safari tour company in Kenya with over 15 years experience. One of the best safari tour companies in Kenya and Tanzania, we thrive to provide the best possible African safari packages in Kenya, Tanzania, Uganda and Rwanda.

We tailor make each African safari tour or excursion to your specific requirements, from the familiar national parks and game reserves to the more unknown and remote locales, from popular game lodges to exclusive boutique ranches, from balloon tours to luxury safaris. Any safari combination is possible.
Our Client Reviews
14 Day Kenya,Tanzania, Zanzibar tour. Travelled a lot of miles to experience Maasai Mara, Serengeti, Ngorongoro, Lake Manyara, Amboseli, then to Zanzibar. Exceptional experience, including the planning, the wonderful, knowledgeable... read more guides Leonard and Saba, the fabulous accommodations (secure, comfortable, with superb service, staff and food)
I would highly recommend to book with East Africa Adventure Tours, and there are dozens, perhaps hundreds, of companies to choose from. Fred, the owner was very thorough and helpful in organizing this spectacular experience for my wife and I.

kmiguelb


January 26, 2023

Best Company to Book With - Just like to start by saying we didn't actually do a safari; we were booked for august 2020 but Covid stopped all that, we were offered our deposit back but... read more decided to let Fred (the owner) hang on to it for a future safari, we rebooked for 2022 but unfortunately, we had to cancel due to my health, Fred was very understanding and over the course of a few months we had our deposit returned , We got to know Fred and staff and found them to go out of their way to help with anything, So if you're planning a safari in the east African area especially Kenya give Fred and his company a try , you won't be sorry , these guys have hands on the ground and live there , I didn't have to write a review because I never did the tour but just wanted to let people know how good the people are at East Africa Aventure Tous and Safaris

T6008LFwilliamb


January 9, 2023

Fantastic safari experience with EAA - We did a 3 night/4 day safari that included Amboseli, Tsavo West and Tsavo East, picking us up in Naivasha and dropping us off in Diani Beach. Every step of... read more interaction with East Africa Adventure (EAA) has been pleasant. Kimanzi helped us organize our itinerary - nothing was a problem, all responses were prompt. Leonard was our guide - he grew up in Tsavo East, and that shows. According to him he can "smell" a lion, which he "proved" when he suddenly stopped on a morning game drive in Tsavo East as he spotted lion's footprints. He has a wealth in knowledge about animals, their behavior, their habits,... Not mentioning that he taught us Masai words for different animals, and explained to us what they mean! Most importantly, he was very corteous to us, other guides, and animals!

Finally, Fred met us when we passed Nairobi (on Chrismas day) to personally greet us and to give us small presents from EAA.

In summary, at least from our experience, you can not go wrong with EAA!

Travel278332


January 2, 2023
Our Vision
To be the best and most preferred tour operator in the East Africa Region.
Our Mission
To offer the best and excellent services that will always give a memorable and unforgettable Experience to our clients.
Our Core Values
In delivering the service, the company values:
Customer Care
Integrity
Professionalism
Teamwork
Excellence
Reliability and Flexibility
Efficiency
WHY BOOK YOUR AFRICAN SAFARI WITH US?
Experience and Trustworthiness.
Our company has been providing safari services for 13 years and we have gained a reputation of an expert in the Kenyan incoming tourism market. More than 50,000 tourists from all over the world have already visited our country with us and highly appreciated the level of service.
Efficient and friendly service
Our expert team takes pride in their thoughtful approach to planning your safari. We find out what you think might make it extra special, then sprinkle in our own special little touches ( even a surprise to enjoy while you're away) to help create your dream safari.
Best Price, no Hidden Charges.
We are glad to offer our clients the best rates on our safaris, transfers and other services. Due to direct contracts with all our suppliers, our prices are always relevant and affordable.
Flexible and hassle free
We're here to take the stress out of the safari planning process. You can be as involved as you want, and you are always in control. Everything is tailored to your exact needs and tastes, and we will keep tweaking and adapting until it feels just right.
Local Expertise
It is vital to us that you have a memorable and authentic experience with our safaris. In line with the expectation we have for our staff,we select only local suppliers that are friendly,reputable and have in-depth local knowledge.
24-hours support
We are available to you 24 hours a day, 7 days a week to provide easy assistance, an open mind and a caring ear in case of any emergency help needed.
TOUR GUIDES / DRIVERS / MANAGEMENT AND OFFICE ADMINISTRATION
As a team we understand that people work hard all year round and reward themselves with a well-earned holiday and this is why it is extremely important to us to do the very best we can to get our clients exactly what they need and deserve.
Whether it is your annual family break, your dream honeymoon or an African Safari of a lifetime, we will guide you through every step of the way.We pride ourselves on our knowledge and experience. Make sure that you take advantage of all the help we can offer when booking your next holiday.